C.E.B.A.S. project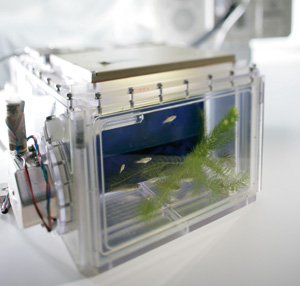 developed, implemented and qualified by OHB-System under a contract awarded by the German Aerospace Center (DLR), based on ideas by Blüm and Froese
3 successful missions on board a Space Shuttle STS-89, STS-90 (1998) and STS-107 (2003), mission preparation and on-site support by OHB-System (11 and 16-day missions)
platform for further terrestrial/extraterrestrial developments - AquaHab
The C.E.B.A.S. (Closed Equilibrated Biological Aquatic System) minimodule is a closed, artificial, self-stabilizing aquatic ecosystem in which various aquatic flora and fauna can be incubated under controlled conditions simultaneously in space (middeck locker of the Space Shuttle) and on the earth over a period of several weeks.
In this way, scientific investigations on the influence of the unique space environment on single organisms as well as on a whole ecosystem are possible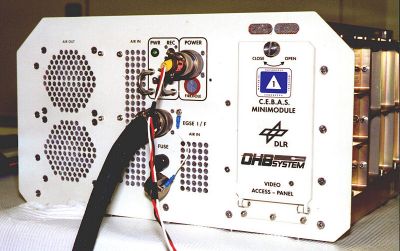 At the same time, various different biological aspects can be considered, e.g.
ecophysiology
evolutionary biology
gravitational biology (including all major fields of zoology and botany)
research into life support systems for space and earth applications.
The C.E.B.A.S. minimodule has the following characteristics:
suppression of exchange of gases or other material with the environment
maximum degree of automation
standardized physical/chemical test conditions by means of a measuring and control unit
maintenance of the volume of water required for the species in question
These properties also form the basis for further use in terrestrial applications, e.g. ecotoxicology for prospective evaluation of chemicals and for monitoring water contamination.
In addition to developing, implementing and testing this system, the OHB-System life science team has also been involved in the following missions:
Coordination and implementation of the transportation of equipment, modules and organisms to the Kennedy Space Center (KSC), Florida, United States, and back to Germany
Establishment and management of a hatchery and a laboratory at KSC
Fitting and transfer of the system to NASA
Preparation and implementation of sample retrieval at the end of the mission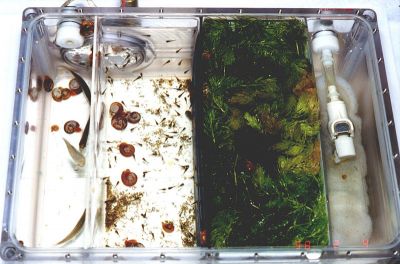 In addition, the OHB team has performed a "ship and shoot" study on behalf of the German Aerospace Center.
This demonstrated that it was possible to fit out the system with test organisms in Germany, transport it to KSC in Florida and then immediately hand it over to NASA as a mission alternative. However, on account of a number of uncertainties, particularly in connection with air transport to the United States (delays, interruptions to electricity supplies etc.), the German Aerospace Center decided not to employ this alternative for the STS-107 mission, opting instead for the conventional method.