Railway process control systems
The division Process Control Systems (PCS) is responsible for the successful transfer of space technology for use in industrial applications. Our systems play a key role in the reliable monitoring and control of the electric traction power supply for trains on the entire network operated by Deutsche Bahn (DB). Optimum availability of power at all times forms the basis for smooth rail operations. The availability of a dense system of overhead lines must meet ever growing demands due to high train frequencies.
One key aspect of the efforts to meet these requirements is the immediate provision of updated process data describing the condition of the energy distribution system and extensive automated control of power distribution systems.
Range of services
PCS specializes in the automation of railway electricity supplies. We develop, assemble and install the systems required for this purpose, providing maintenance for them throughout their entire life cycle.
OHB System AG (formerly Kayser-Threde) is the leading systems partner for Deutsche Bahn and an acknowledged systems architect and technology leader. Active in the market since 1975, we combine continuity with technical progress.
---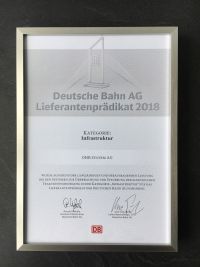 OHB's Process Control Systems unit awarded second place in top supplier status by Deutsche Bahn in the infrastructure category
With its automation and process control systems business, the aerospace group has been a reliable partner for Deutsche Bahn for around 45 year